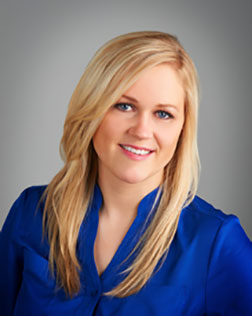 An Indiana native from Delphi, Indiana, Dr. Walton graduated from Depauw University as a Lilly Endowment Scholar with a bachelor's degree in biology. As an undergraduate she participated in a Timmy Foundation medical mission trip to Quito, Ecuador. She received her Optometry degree from Indiana University's School of Optometry and was awarded the prestigious American Foundation for Vision Awareness scholarship in 2011.
Dr. Walton joined the practice from position as an optometrist at an Indianapolis LASIK center where her responsibilities included pre and post-operative care of refractive surgery patients. She has completed rotations focusing on ocular diseases and pathology as well as eye care for all ages at the Indianapolis Eye Care Center, the Bennett and Bloom Eye Center in Louisville, KY and the Veterans Affairs Clinic in Pensacola Florida. She is a member of the Indiana Optometric Association and the American Optometric Association. Dr. Walton will be leaving the practice as of July 15, 2015 to move closer to family members.
Dr. Walton enjoys jogging, hiking, tennis, traveling, boating, and wakeboarding. When she is not working she will look forward to exploring the Hendricks County trails.